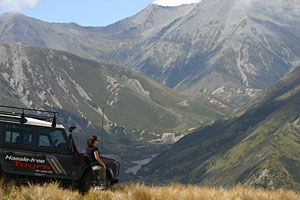 Four Wheel Drive Tour
This 4x4 vehicle is air conditioned and comfortable. Follow a rugged track through the farm, up steep hills and enjoy the beautiful views from the top. Your guide and driver will offer a unique insight into the local geography, area history and explain day-to-day life on a sheep station in the foothills of the Southern Alps. On a clear day, you can see all the way to the Canterbury coast and the down the length of the Southern Alps.
You will pass through sections of native bush and learn about the farm and the local community. It's a great chance to experience a working sheep station and even get up close and personal with it's woolly residents. You'll have time to take photos and walk onto the farm and breathe in the clear mountain air.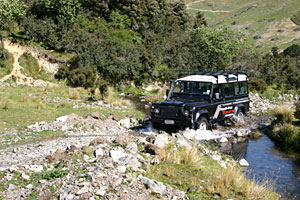 The 4WD tour stops for lunch and after a great meal, you will board the 4WD again and travel on to Arthurs Pass. This breathtaking trip follows the course of the Waimakariri River and as the road climbs slowly, you will notice dramatic changes in the flora and fauna, with the lush green pastures giving way to the more desolate high country hills of Porters Pass.
This spectacular golden landscape is home to the unique limestone rock formations at Castle Hill. The history of this area is rich with tales of gold mining, exploration and the hardships of the pioneers who forged crossings between the east and west coasts of the island. You will pass by lakes, streams and ski fields and, as you head closer to Arthurs Pass, the scenery changes again to dense native bush, with glimpses of the railway line that you will travel on for your return journey on the TranzAlpine train.
Please note: At times a smaller 4WD vehicle may be used as the discretion of the operator. This is if booking numbers are less than 4 on any particular day, or at times weather related. This is solely to cater for clients comfort & safety on the tour.
"Last week, my family and I enjoyed your Alpine Safari adventure including the jet boat ride, four-wheel-drive tour and the scenic train ride back to Christchurch. It was, by far, the best activity (in terms of both learning AND fun) of all we undertook in NZ. We can't stop telling our friends about it!" - Jeffrey, USA