Jetboating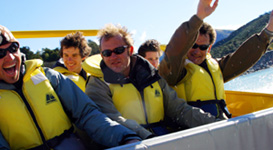 Your adventure begins in Christchurch, where you are picked up from your accommodation, and taken across the spectacular Canterbury Plains, towards Springfield. Around 10 minutes north of Springfield you will arrive at your first exciting activity of the day: the Waimak Alpine Jet.
Climb aboard the world famous Hamilton Jet Boat. 'Waimak Alpine Jet' are the premier jet boat operator in the upper reaches of the river canyon, and will take you on a thrilling 45 minute ride through high walled rock canyons and white water rapids. The concept of the Jet Boat was invented here in New Zealand, and underwent many trials on this very stretch of the river.
With the Torlesse range as a backdrop you will experience the beauty of the Waimakariri river, with it's borders of lush native beech and exotic plants.
Your guide will highlight features such as the Staircase Viaduct. Completed in 1918, the railway viaduct was imported in sections from England. At this point in your tour you will view the viaduct from below, but later in the afternoon, you will travel across the viaduct, 100 metres above the valley floor, during your TranzAlpine train journey home.
Further up the river are the Hanging Gardens, sheer cliffs covered by dense foliage with natural springs pouring water down their sides all year round.
Your jet boat is expertly driven by one of Waimak Jet's experienced drivers. The drivers live locally and will give you insights into the area you are travelling in, with the passion of someone who really enjoys living in these beautiful surroundings.
When you return to the shore, your Four Wheel Drive transport is waiting to take you on an unforgettable journey across one of the area's sheep stations.
"Last week, my family and I enjoyed your Alpine Safari adventure including the jet boat ride, four-wheel-drive tour and the scenic train ride back to Christchurch. It was, by far, the best activity (in terms of both learning AND fun) of all we undertook in NZ. We can't stop telling our friends about it!" - Jeffrey, USA