TranzAlpine Train Journey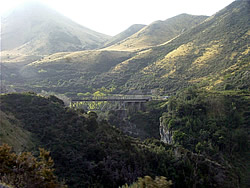 Arriving at Arthurs Pass, a look around the visitor's centre offers an opportunity to learn more about the town and it's history before you board the train and begin your journey back to Christchurch.
The train takes a dramatic route through numerous tunnels and across towering viaducts. The scenery takes in small hidden lakes and valleys along with and majestic mountain peaks. Depending on the time of year, you can be surrounded by snow or bare cliffs bleached in the summer sun.
The two hour train trip passes through the contrasting landscapes of the mountains, foothills and plains and you arrive back in Christchurch with plenty of memories of an unforgettable day.
During the winter months due to shorter daylight hours the latter portion of the train journey may be in darkness.
At Christchurch you are met at the railway station and taken back to your hotel accommodation.
"Last week, my family and I enjoyed your Alpine Safari adventure including the jet boat ride, four-wheel-drive tour and the scenic train ride back to Christchurch. It was, by far, the best activity (in terms of both learning AND fun) of all we undertook in NZ. We can't stop telling our friends about it!" - Jeffrey, USA